The Regulator Bookshop welcomes architect Frank Harmon for a reading and signing of his new book, Native Places: Drawing as a Way to See. Harmon will be introduced by architect Ellen Cassilly. Free and open to the public.
Native Places is a collection of sixty-four watercolor sketches paired with essays about architecture, landscape, everyday objects, and nature. Its goal is to transform the way we see. Through its pages, barns become a guidebook to crops and weather; a country church is redolent of the struggle for civil rights; a highway rest stop offers a glimpse of egalitarian society. Native Places also promotes the belief that hand drawing is not an obsolete skill — that sketching offers us an opportunity to develop a natural grace in the way we view the world and take part in it.
Frank Harmon, FAIA, has designed sustainable modern buildings across the Southeast for 30 years. He discovered architecture as a child playing in the streams and woods of his native Greensboro. His work engages pressing contemporary issues such as placelessness, sustainability, and restoration of cities and nature. Frank Harmon is a graduate of the Architectural Association in London and a professor at the North Carolina State University College of Design. He has taught at the Architectural Association and has served as a visiting critic at Harvard, the University of Virginia, and Auburn University's Rural Studio.
Ellen Cassilly has been in the triangle for 27 years and had the great good fortune to work with Frank Harmon for her first five years here. Ellen has been co-teaching the design/build architecture studio at NC State for the last nine years, where her students build a structure to serve the community in 11 short but very hot weeks each summer. Ellen also leads her office, Ellen Cassilly Architect, from a former bank building at the corner of Foster and Corporation Streets. You have probably enjoyed some of their design creations such as Parker and Otis, The Pavilion in Durham Central Park, Grub, Fullsteam, Pie Pushers, Watt's Grocery and four structures in Duke Gardens.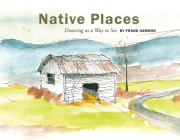 $24.95
ISBN: 9781940743455
Availability: available for order
Published: Oro Editions - September 16th, 2018
---